November 6, 1860
Abraham Lincoln is elected as sixteenth president of the US
1860-1861
The Southern states began to succeed from the Union in this time.
April 12, 1861:
Fort Sumter is attacked by the Confederates, thus the war begins
1861-1865: Technology introduced in the Civil War
Many new technology are introduced around this time and are used in the war:
Rifles
Canon
Submarines
Hot-air Balloons
Telegraph
Railroads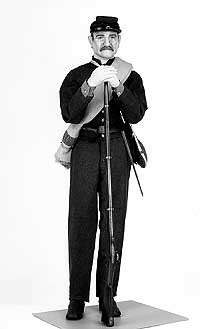 The typical uniform of the Confederate soldier was a forage or slouch hat, gray or butternut wool shell jacket, gray, butternut, or blue trousers, and brogans. A haversack was used to carry personal items. Confederate soldiers usually traveled lighter than their Union counterparts; instead of a knapsack, they typically carried their bedding rolled in their blanket and slung across one shoulder.
Uniforms of the Union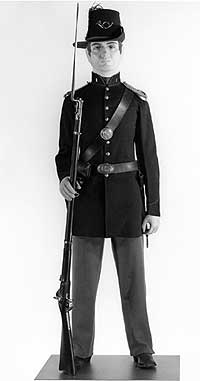 The typical uniform of the Union soldier consisted of a blue forage cap with black leather visor (a Hardee hat is shown here), a dark blue sack coat (flannel), blue wool trousers, and leather brogans. He carried a knapsack, which contained half of a two-man tent, a groundsheet, an overcoat, and his personal effects. A rolled blanket was fastened with straps above the knapsack. A haversack carried rations.
1862: Belt Buckle Introduced
Belt made out of a pattern buff leather
January 1, 1863
Emancipation Proclamation is issues that "freed" all of the slaves
July 22, 1864 :Battle of Atlanta
General William Sherman successfully takes over the city of Atlanta, which is a major railway transportation hub for the South.
April 15, 1865
President Abraham Lincoln dies at 7:22am after being shot the evening before at Fords' Theater in Washington. The assassin is well known actor and Southern sympathiser John Wilkes Booth who has escaped.